DISA has sold its 3000th Doosan unit in SA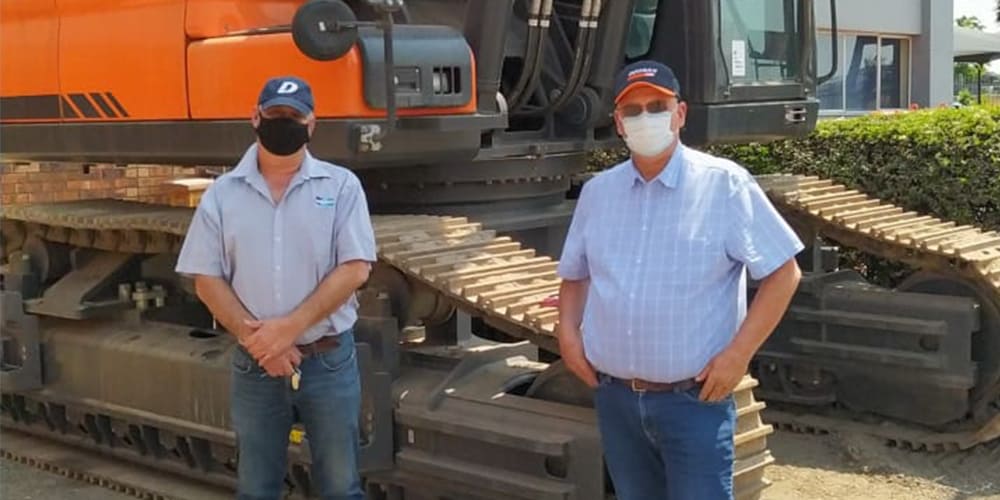 DISA Equipment has recently sold its 3000th Doosan machine in South Africa to plant rental specialists, TKR Operations, in a joint venture with Medkoeriers, which provides material processing and handling services at Tharisa Minerals in Rustenburg, North West Province.
"Delivery of the Doosan DX520 excavator to the mine in October 2020, marks the 3000th Doosan machine to be sold locally and this machine is now hard at work for TKR Operations and Medkoeriers, along with other Doosan equipment," says Darrel Holton, managing director, DISA Equipment (Pty) Limited, trading as Doosan, part of the Capital Equipment Group of Invicta Holdings Limited. "The Doosan team is thrilled that this milestone deal was with our esteemed Medkoeriers customers, Marthinus Hollamby and Eddie Pienaar, who have invested in other Doosan machines over the years."
According to Marthinus Hollamby, managing director, Medkoeriers, Doosan machines have proven to offer the most cost-efficient and dependable overall performance available – even in a tough mining environment, that normally impedes a machine's productivity.
"We operate continuous 24-hour shifts 365 days a year. This demanding schedule requires high availability of robust, well-maintained machines, designed to deliver optimum performance in arduous conditions.
"We have also implemented a strict equipment replacement policy that ensures a healthy fleet age and means that our fleet availability is always at the 90% mark. What's critical to our success is optimal productivity, minimal downtime and unnecessary repair costs.
"Our team has maintained the necessary performance levels required across the fleet year on year, since the purchase of our first Doosan machine. DX300 and DX520 excavators with hydraulic hammers, form part of the Doosan fleet. All of our Doosan machines cope extremely well in the harsh operating conditions.
"Part of our success is working closely with the Doosan team – we can always depend on the support of technical expertise, maintenance and repair services, as well as the efficient supply of spare parts. Our very first Doosan unit, which was purchased in 2012 was operational up to 27 000 hours – this is testament to premium machine quality and exceptional service.
"In today's challenging economic conditions, where South Africa has a scarcity of work opportunities and sluggish business growth, we believe it is even more important for companies to establish a sound reputation as dependable service provider. We have worked hard to be the best in the business, by providing innovative solutions rather than standard services, to major mining houses and large contracting firms that require specialised skill sets. Our specialised material processing and handling solutions allow our customers to focus on their core businesses.
"Our vision is to remain relevant in our niche operational market. We would ultimately like to have our own operation that covers the entire process, from exploration, mining, material handling and processing of the final product."
The TKR Operations and Medkoeriers joint venture offers extensive solutions that encompass oversize material handling, lowbed rental and transportation services for staff. Plant rental machines include excavators, wheel Loaders, hydraulic breakers and drills, as well as water carts.
The team currently operates predominantly in the North West Province, with ad hoc operations in Gauteng, Mpumalanga and Limpopo provinces.
Additional information
Doosan DX520LCA crawler excavators, designed for dependable operation in tough conditions, have advanced features for higher productivity and lower operational costs. Notable features of this series – which include increased traction force, greater bucket digging forces and increased swing torque – ensure improved performance and faster cycle times.
Other design advancements comprise the large, sturdy undercarriage and counterweight which provide extra stability, a high-performance mechanical injection engine for fuel efficiency and advanced technology for optimum power management and easy maintenance.
DX520LCA excavators are powered by an environmentally friendly Doosan Tier II 6 cylinder air-to-air intercooler engine that delivers 238 kW (318 HP) @ 2 000 rpm, with excellent fuel economy. A large fan size, with improved air, hydraulic oil and fuel filter efficiency, enhances cooling performance, thus reducing fuel consumption.
The e-EPOS system (Electronic Power Optimising System) ensures economy and smoothness of operation, by providing a synchronised communication link between the engine's electronic control unit and the hydraulic system, to ensure power is delivered exactly as required.
Advantages of the new user-friendly e-POS system include ease of operation, availability of power through three selectable user modes for optimum efficiency under all conditions. This includes an automatic auto-idle mode for the maximum fuel saving benefit. Regulation and precise control of the flow rate required by the equipment is standard and a self-diagnosis function enables technical problems to be resolved quickly. Machine settings and maintenance data are clearly displayed on a new user-friendly LCD colour monitor.
These machines have an advanced hydraulic circuit design which separates the oil flows for the travel and boom function to ensure precise and safe operation when handling loads during travel. Circuits for the boom, arm and bucket are optimised for smooth control during combination work.
The DX520LCA has the widest standard variable undercarriage available – 3,90 m extended and 3,34 m retracted. This heavy-duty X-shaped undercarriage has an integrated track spring and idler, as well as a durable box section track frame and self-lubricating sealed links. All welded structures are designed to limit stresses. The hydraulic track adjuster has a shock absorbing tension mechanism.
This series has a maximum bucket digging force of 30,8 t and a side lifting capacity of 17,7 t at 6 m reach and 3 m height. Traction force has been improved with a drawbar pull of 37,6 t.
The DX520LCA series has been designed for easy access to all components for quick maintenance procedures and to prevent contamination to the surrounding environment.
New design features incorporate the latest ergonomics for improved safety and greater comfort, ensuring operators work in conditions conducive to high productivity.
A spacious, all weather sound-suppressed cab offers a clear all-round view and effective air conditioning and an adjustable seat, with an optional air suspension system to reduce vibrations, enhances comfort. The control panel is conveniently positioned for easy use and is simple to read. For improved safety, there are large handrails and a wide step with anti-slip plates, right and left rear view mirrors, a travel alarm and safety glass.
The robust Doosan DX300LCA hydraulic tracked excavator, with an operational weight of 29 600 kg, has advanced features for optimum performance, enhanced productivity, fuel-efficiency and increased operator comfort.
Doosan DX300LCA hydraulic excavators have a heavy-duty boom and arm boom and deliver exceptional performance in tough conditions. The large 500 ℓ capacity fuel tank enables the excavator to operate all day, without having to stop work for re-fuelling.
Doosan's specially designed attachments – buckets, hydraulic breakers, pulverisers, crushers, multi-processors and grapples – are operated from inside the cab and powered by the excavator's new EPOS (electronic power optimising system). This hydraulic system, which has been designed for improved excavator control, optimises efficiency of the machine for all working conditions, also minimising fuel consumption.
DX300LCA hydraulic excavators are suitable for use in various industries, including agriculture, civil engineering and construction, as well as underground and surface mining.